~Alan Mayberry is the tritagonist for Starlet City Friends.~
Full Name: Alan Marvin Mayberry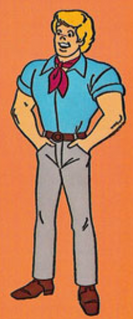 Also Known As: Al
Species: Human
Birthday: September 21, 1994
Gender: Male
Age: 22
Relatives: Bill Mayberry (father), Morgan Mayberry (mother), Biff Mayberry (younger brother)
Hair Color: Blond
Eye Color: Black
Skin Color: Fair
Appearance
Edit
Alan always wears a blue shirt, a purple ascot, light brown pants, a brown leather belt, and dark brown shoes.
Alan shares his birthday with American actor Bill Murray, best known for his role as Dr. Peter Venkman in the 1984 film "Ghostbusters" and it's 1989 sequel "Ghostbusters II"
He also shares his birthday with American guitarist Don Felder, best known for being part of The Eagles
He owns a Rickenbacker 330 electric guitar that he plays in his and his roommate, Buster Reynolds's band, The Sparkles
He also owns a Guild D-125 acosutic guitar he received from his father for his 15th birthday
He absolutely adores his roommate's butter cookies
He's very hospitable, always welcoming those in need into his home and inviting them to stay as long as they please
He is the oldest member of the gang and also the strongest
Ad blocker interference detected!
Wikia is a free-to-use site that makes money from advertising. We have a modified experience for viewers using ad blockers

Wikia is not accessible if you've made further modifications. Remove the custom ad blocker rule(s) and the page will load as expected.