~Alfie is a supporting protagonist for The Construction Boy.~
Full Name: Alfie The Excavator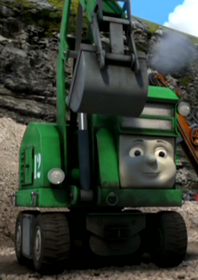 Also Known As: Alf
Species: Excavator
Gender: Male
Age: 7
Relatives: Emmet Brickowski (owner), Jack (best friend)
Hair Color: N/A
Eye Color: Black
Skin Color: Grey
Appearance
Edit
Alfie is a green excavator with the number "12" painted on his sides and on the back of his cab in white.
Like his best friend Jack, Alfie is a fan of Hanna-Barbera cartoons
He, also like Jack, is also a fan of Teenage Mutant Ninja Turtles, Sonic, and Popeye
He is is a friendly machine who gets on well with his work and never minds getting dirty or mucky during jobs
Ad blocker interference detected!
Wikia is a free-to-use site that makes money from advertising. We have a modified experience for viewers using ad blockers

Wikia is not accessible if you've made further modifications. Remove the custom ad blocker rule(s) and the page will load as expected.