Archie Andrews is one of the main protagonists for White Falcon Adventures and the rhythm guitarist and percussionist for The White Falcons.
Full Name: Archibald James Andrews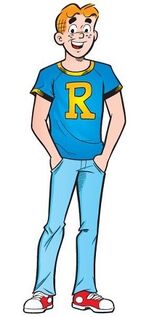 Also Known As: Carrot Top
Species: Human
Gender: Male
Birthday: February 25, 2000
Age: 17
Relatvies: Fred Andrews (father), Mary Andrews (mother)
Hair Color: Red
Eye Color: Black
Skin Color: Fair
Appearance
Edit
Archie always wears a yellow and blue t-shirt with the letter "R" on it, blue jeans, and red and white sneakers.
Archie shares his birthday with late Beatles lead guitarist George Harrison
He owns the 1965 GMC Handi-Van that the gang uses as their main mode of transportation as well as to transport their gear to gigs
His instruments are a Gretsch White Penguin, a pair or Meinl MSM4 Jumbo Maracas, a chime tree, and a set of Yamaha DC-9160AC tubular bells
Ad blocker interference detected!
Wikia is a free-to-use site that makes money from advertising. We have a modified experience for viewers using ad blockers

Wikia is not accessible if you've made further modifications. Remove the custom ad blocker rule(s) and the page will load as expected.