~Augie is a supporting protagonist for Chuggie & Pals and the drummer for The Larry Anderson Group.~
Full Name: Augustus "Augie" Lance Anderson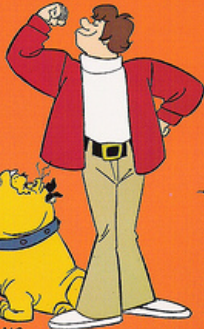 Also Known As: Big A
Species: Human
Gender: Male
Birthday: March 8, 1996
Age: 21
Relatives: Luke Anderson (father), Abigail Anderson (mother) Larry Anderson (brother), Leo Anderson (brother), Annie Anderson (sister)
Hair Color: Brown
Eye Color: Black
Skin Color: Fair
Appearance
Edit
Augie always wears a white turtleneck under a red jacket, tan bell-bottom pants, a black leather belt with a brass buckle, and white shoes.
Augie shares his birthday with former Monkees drummer Micky Dolenz, who was also famous for doing some voicing on some Hanna-Barbera cartoon shows such as The Funky Phantom, The Scooby-Doo Show, and Butch Casidy & The Sundance Kids to name a few.
He also owns a 1968 Pontiac Firebird 400 he uses as his main mode of transportation
Ad blocker interference detected!
Wikia is a free-to-use site that makes money from advertising. We have a modified experience for viewers using ad blockers

Wikia is not accessible if you've made further modifications. Remove the custom ad blocker rule(s) and the page will load as expected.