~Babu is a supporting protagonist for The Adventures Of Tinker & Co..~
Full Name: Babu The Genie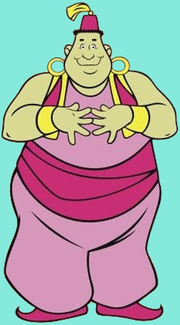 Also Known As: Babs
Species: Genie
Gender: Male
Birthday: July 21, 1995
Age: 21
Relatives: Unnamed parents
Hair Color: Black
Eye Color: Black
Skin Color: Light Olive
Appearance
Edit
Babu always wears a pink and velvet vest and matching pantaloons, genie shoes, golden wristbands, golden earrings, and fez hat.
Babu shares his birthday with late American actors Don Knotts and Robin Williams
He loves to eat, especially noodles
He can play the bass really well and owns a blue Rickenbacker 4001 Bass
Ad blocker interference detected!
Wikia is a free-to-use site that makes money from advertising. We have a modified experience for viewers using ad blockers

Wikia is not accessible if you've made further modifications. Remove the custom ad blocker rule(s) and the page will load as expected.