Bailey Handler is one of the main protagonists of Bailey's World and the first of the guitarist for Vanilla.
Full Name: Bailey Murphy Handler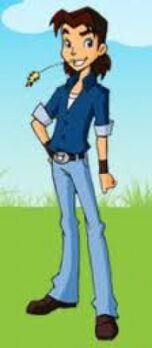 Also Known As: Cowboy
Species: Human
Gender: Male
Birthday: April 21, 2004
Age: 13
Relatives: John Handler (father), Ava Marie Handler (mother), Will Taggert (cousin), Ronnie Anne Santiago (girlfriend)
Hair Color: Dark Brown
Eye Color: Dark Blue
Skin Color: Tan
Appearance
Edit
Bailey always wears a dark blue long-sleeved shirt with the sleeves rolled up over a white t-shirt, blue jeans, dark brown boots, a dark blue belt with a silver buckle, and dark brown wristbands on his wrists.
Bailey shares his birthday with Scottish actor James McAvoy
He gets his nickname from how he used to live in Nebraska before moving to Starlet City, Colorado and how he sometimes likes to bite on a stalk of wheat
His father is the owner of a successful hotel chain and his mother is a nurse at the hospital where Jonny's dad works
He is a big fan of British YouTube personality DanTDM (real name Dan Middleton) and claims the latter is who inspired him and Jonny to create their own YouTube channel.
Bailey's instruments in the band are a Yamaha Revstar RS420 electric guitar, which was a Christmas present from his cousin, and a Maton SRS70C acoustic guitar, which previously belonged to his father
He is the only member of the gang who lives in an actual house rather than an apartment like the rest.
Ad blocker interference detected!
Wikia is a free-to-use site that makes money from advertising. We have a modified experience for viewers using ad blockers

Wikia is not accessible if you've made further modifications. Remove the custom ad blocker rule(s) and the page will load as expected.