~Belle is a supporting protagonist for The Railroad Girl.~
Full Name: Belle The Fire-Fighting Tank Engine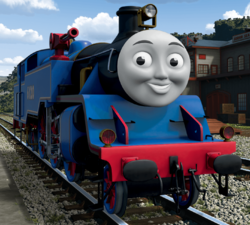 Also Known As: Big Blue Belle
Species: Steam Engine
Gender: Female
Age: 20
Relatives: Robert A. Riddles (designer), Brighton Works (builder)
Hair Color: N/A
Eye Color: Black
Skin Color: Grey
Appearance
Edit
Belle is a large royal blue tank engine with red and brass fittings. She has the number "6120" on her sides. She also has a lamp in front of her funnel and 2 water hoses built onto both sides of her tank.
Belle can be described as lively, loud, proud, daring, energetic, and, like Stepney, bursting with enthusiasm
Like Toby she has a bell and a whistle. Unlike Toby, she uses both her bell and her whistle, while Toby prefers to use his bell
Belle's favorite TV shows are Rocko's Modern Life and The Angry Beavers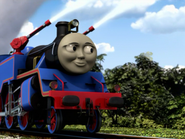 Ad blocker interference detected!
Wikia is a free-to-use site that makes money from advertising. We have a modified experience for viewers using ad blockers

Wikia is not accessible if you've made further modifications. Remove the custom ad blocker rule(s) and the page will load as expected.