~Biff is the deuteragonist for Starlet City Friends.~
Full Name: Biff Ulysses Mayberry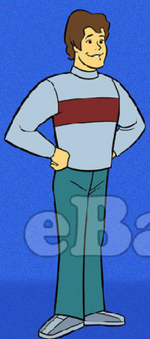 Also Known As: Lil Bro
Species: Human
Gender: Male
Birthday: December 8, 1997
Age: 19
Relatives: Bill Mayberry (father), Morgan Mayberry (mother), Alan Mayberry (older brother)
Hair Color: Brown
Eye Color: Black
Skin Color: Fair
Appearance
Edit
Biff always wears an ice blue shirt with a dark red stripe, jeans, and blue-gray sneakers.
Biff shares his birthday with late American singer-songwriter and poet Jim Morrison, best known as the lead singer for American rock band The Doors
He also shares his birthday with Hollies drummer Bobby Elliot
He moved to Starlet City to live with Alan and his (Alan's) housemate after graduating from high school
He is the lead singer in his brother and Buster's band The Sparkles, in which he also plays a Guild f-150 acoustic guitar and a Gretsch Black Penguin electric guitar
Whenever Alan is using the brothers' shared 1973 AMC Hornet, he uses a Razor EcoSmart Metro electric scooter as his main mode of transportation
He often comes up with get-rich-quick schemes to raise money
Ad blocker interference detected!
Wikia is a free-to-use site that makes money from advertising. We have a modified experience for viewers using ad blockers

Wikia is not accessible if you've made further modifications. Remove the custom ad blocker rule(s) and the page will load as expected.