Brains is one of the two main protagonists for Wonderful Wonder Red.
Full Name: Brian "Brains" Logan Lawrence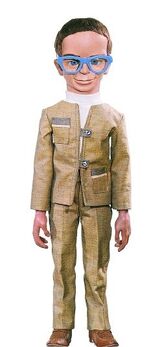 Also Known As: Big Bro
Species: Human
Gender: Male
Birthday: November 14, 1994
Age: 23
Relatives: Andrew Lawrence (father), Mary Lawrence (mother), Wonder Red Honeywell-Lawrence (adoptive younger sister)
Hair Color: Brown
Eye Color: Blue
Skin Color: Fair
Appearance
Edit
Brains always wears a pair of light blue thick-rimmed glasses, a tan jacket over a white turtleneck, tan pants, and brown leather loafers.
Brains shares his birthday with late English singer and actor Freddie Garrity, best known for being the frontman and comical element of English pop band Freddie & The Dreamers.
Apart from being a scientist, he is also an expert marksman, archer, and scuba diver.
He used to live in a lake house near the Indianan shoreline of Lake Michigan with his parents, but moved to an apartment building after graduating from college.
He caught Red picking his pocket in hopes of getting money to buy a sandwich from Subway, and after chasing her into an alley, she admitted that she was an orphan, and he decided to take her to lunch, and when he offered to have her live with him, and she said yes.
He owns a 1963 Lincoln Continental that serves as his and Red's main mode of transportation.
Ad blocker interference detected!
Wikia is a free-to-use site that makes money from advertising. We have a modified experience for viewers using ad blockers

Wikia is not accessible if you've made further modifications. Remove the custom ad blocker rule(s) and the page will load as expected.