Brick is one of the main antagonists of The David Cassidy Elementary Kids.
Full Name: Benjamin "Brick" Arthur Tomlinson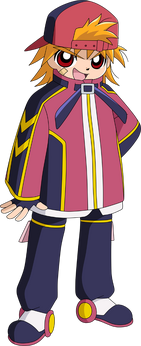 Also Known As: Bully Brother #1
Species: Human
Gender: Male
Birthday: February 7, 2007
Age: 11
Relatives: Deacon Tomlinson (father), Gladys Tomlinson (mother; deceased), Boomer Mantle (best friend), Butch Stone (best friend)
Hair Color: Orange
Eye Color: Red
Skin Color: Fair
Appearance
Edit
Brick always wears a red cap, a red, black, white and gold jacket, with a collar that covers his neck and is fastened with a strap, black pants with zippers just above his knees, and shoes that match his jacket and have wheels.
Brick shares his birthday with Irish YouTube personality Sean William McLoughlin, better known by his online pseudonym "jacksepticeye".
His mother died of blood poisoning when he was eight, placing him in his father's care.
He and Butch live with Boomer in a boarding house owned by Boomer's father.