~Bubbles is a supporting protagonist for The Railroad Girl.~
Full Name: Rhonda "Bubbles" Dorothy Devlin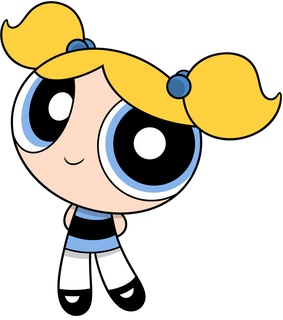 Also Known As: Sweetie, Bubs
Species: Human
Gender: Female
Birthday: October 22, 2010
Age: 7
Relatives: Ernie Devlin (father), Kelsey Devlin (mother, deceased), Sandy Devlin (aunt), Todd Devlin (uncle)Hair Color: Blonde
Eye Color: Light Blue
Skin Color: Fair
Appearance
Edit
Bubbles always wears a blue tank top with a black stripe, white stockings, and black Mary Jane shoes. She also wears dark blue hair clips in her hair.
Bubbles shares her birthday with Cars keyboardist Greg Hawkes
She is emotionally attached to a stuffed octopus toy her father gave her for her 1st birthday she calls "Octi", and usually cries if she loses it or if someone steals it
She hates it when she sees people or engines in a fight
She also hates seeing injured animals
She LOVES animals, even mythical ones like unicorns
She is also very artistic and loves to draw pictures
Her mother was killed in a subway accident when she was 2, thus placing her in her father's care
She gets her nickname from how she loves to blow bubbles
She LOVES ice cream, especially the kind from Totally 60's, a store/restaurant her friend Wally owns and runs
She takes a ballet class every other Tuesday with her friend Anabella
Ad blocker interference detected!
Wikia is a free-to-use site that makes money from advertising. We have a modified experience for viewers using ad blockers

Wikia is not accessible if you've made further modifications. Remove the custom ad blocker rule(s) and the page will load as expected.