Buster is one of the main protagonists for Starlet City Friends.
Full Name: Buster Cedric Reynolds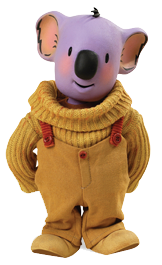 Also Known As: Outback Boy
Species: Koala
Birthday: July 1, 1995
Gender: Male
Age: 22
Relatives: Anthony Reynolds (father), Emma Reynolds (mother), Frank Reynolds (twin brother)
Hair Color: Lavender
Eye Color: Black
Skin Color: Peach (in ears), black (on nose)
Appearance
Edit
Buster always wears a yellow sweater, dark tan overalls with red suspenders, and light tan shoes.
Buster loves to bake, especially his well-appreciated butter cookies
He shares his birthday with Canadian-American actor Dan Akroyd, best known for his role as Dr. Ray Stantz in the 1984 film "Ghostbusters" and it's 1989 sequel "Ghostbusters II"
He owns a Alfa Romeo Romero compact van he calls "Daisy Mae", which the gang uses to go on vacations
He also owns a Gretsch Renown 4-piece drum kit that he plays in his, Alan, and Biff's band, The Sparkles.
He and his brother were originally from Australia, but moved to the US and became American citizens when he was 13
He is really into music from the 70's
His favorite bands include The Jackson 5, Classics IV, Europe, ABBA, The Mamas & The Papas, and The Grass Roots
Ad blocker interference detected!
Wikia is a free-to-use site that makes money from advertising. We have a modified experience for viewers using ad blockers

Wikia is not accessible if you've made further modifications. Remove the custom ad blocker rule(s) and the page will load as expected.