~Butch is a supporting protagonist for The Railroad Girl.~
Full Name: Butch The Tow Truck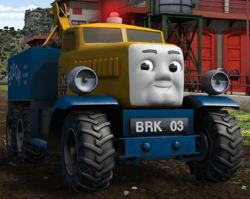 Also Known As: Winter City Recovery Unit
Species: Tow Truck
Gender: Male
Age: 42
Registration Number: BRK-03
Hair Color: N/A
Eye Color: Black
Skin Color: Grey
Appearance
Edit
Butch is a yellow and navy tow truck with a red light on top of his cap and a black license plate bearing his registration number in white.
As a tow truck, it's Butch's job to tow away broken down vehicles to the mechanic to be repaired
Butch's favorite movies are Full Metal Jacket and Charlie's Angels
Butch's favorite TV shows are Duck Dynasty, Pawn Stars, American Pickers, The Middle, Dinosaurs (an American family sitcom created by Michael Jacobs and Bob Young), and The Red Green Show, like Oliver.
He is quite serious about his job and loves his work
Despite his size, he has a kind heart and is always ready to help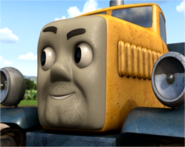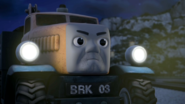 Ad blocker interference detected!
Wikia is a free-to-use site that makes money from advertising. We have a modified experience for viewers using ad blockers

Wikia is not accessible if you've made further modifications. Remove the custom ad blocker rule(s) and the page will load as expected.