~Butch Cassidy is the deuteragonist for Chuggie & Pals as well as the lead singer and lead guitarist for The Larry Anderson Group.~
Full Name: Butch Oswald Cassidy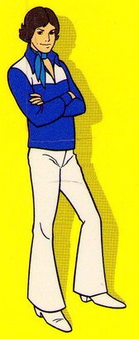 Also Known As: Mister Butch
Species: Human
Gender: Male
Birthday: December 30, 1994
Age: 22
Relatives: Hank Cassidy (father), Gloria Cassidy (mother), Mark Cassidy (older brother), Peter Cassidy (grandfather), Merilee Bannon (girlfriend)
Hair Color: Dark Brown
Eye Color: Black
Skin Color: Fair
Appearance
Edit
Butch always wears a blue shirt with a white stripe, a blue ascot, white pants, and white shoes.
Butch shares his birthday with late English singer-songwriter and former Monkees member Davy Jones as well as The Monkees' guitarist, Michael Nesmith
He inherited the Piperville Railway from his grandfather
He and his brother own a very nice retro-style house located next to the Piperville Roundhouse
He played guitar in his 7th and 8th Grade band classes and now owns a Fender Telecaster electric guitar he got at a garage sale
He does not tolerate bullies on his railway
He also does not tolerate Pete's pranks
He mainly uses Chuggie to get around whenever Mark is using the brothers' shared Chevrolet Caprice
At nighttime, he wears a white t-shirt, blue pajama bottoms, white socks, and blue slippers
When summer rolls around, he wears a blue polo shirt with the same pants, but with blue sneakers
When it's wintertime, he wears white long underwear under his clothes, a white parka, a blue ushanka on his head, and blue snow boots on his feet. He also wears a pair of blue gloves on his hands
He has Autism, a disorder that causes him to sometimes have problems socializing and using complex concepts for some things, but he manages it very well
His disorder also causes him to be stressed easily, and he often fidgets with a fidget cube as a stress relief
Apart from running the railway, he also supervises the after-school program for autistic students that his friend Nonny attends every Friday
Ad blocker interference detected!
Wikia is a free-to-use site that makes money from advertising. We have a modified experience for viewers using ad blockers

Wikia is not accessible if you've made further modifications. Remove the custom ad blocker rule(s) and the page will load as expected.