~Caitlin is a supporting protagonist for The Railroad Girl.~
Full Name: Caitlin The Streamlined Engine
Also Known As: Rocket Girl
Species: Steam Engine
Gender: Female
Age: 18
Relatives: Baldwin Locomotive Works (designer and builder)
Hair Color: N/A
Eye Color: Black
Skin Color: Grey
Appearance
Edit
Caitlin is a purplish-red engine with a purplish-red coat of paint with light grey and light blue lining. She also has a gold nameplate with her name on it on either side of her smoke-box and a light just below her smoke-box.
Caitlin is particularly impatient and restless if she has nothing to do. She would rather be racing than sit in a station and be idle
Caitlin's favorite musical artists are One Direction, 5 Seconds Of Summer, Maroon 5, and Felipe Dylon, a Brazilian pop singer
Caitlin was devastated when she heard that Zayne Malik had left 1D.
Caitlin's favorite movies are the Back To The Future movies, Napoleon Dynamite, Despicable Me 1 and 2, Minions, and Space Jam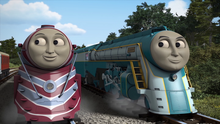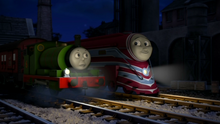 Ad blocker interference detected!
Wikia is a free-to-use site that makes money from advertising. We have a modified experience for viewers using ad blockers

Wikia is not accessible if you've made further modifications. Remove the custom ad blocker rule(s) and the page will load as expected.