Cassie is the tritagonist for CJ & The Dragon Pack.
Full Name: Cassie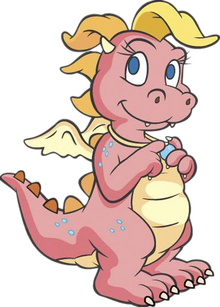 Also Known As: Cass
Species: Dragon
Gender: Female
Birthday: May 3, 2009
Age: 7
Relatives: Unnamed parents, Sophie (older sister) Kiki (younger sister), Finn (younger brother), 71 other unnamed siblings
Hair Color: N/A
Eye Color: Blue
Skin Color: Pink, yellow, and orange
Appearance
Edit
Regardless of season, Cassie always wears a light blue orb on a gold necklace.
Cassie shares her birthday with English actor and television presenter Peter Duncan, best known for being a presenter of the English children's TV show Blue Peter, the longest-running children's TV show in the world since it's first airing in 1958
She is the most shy of the dragons and makes up for it by being intelligent and kind.
Ad blocker interference detected!
Wikia is a free-to-use site that makes money from advertising. We have a modified experience for viewers using ad blockers

Wikia is not accessible if you've made further modifications. Remove the custom ad blocker rule(s) and the page will load as expected.