Chris Thorndyke is a supporting protagonist for The Adventures Of Tinker & Co..
Full Name: Christopher Charles Thorndyke
Also Known As: N/A
Species: Human
Gender: Male
Birthday: June 18, 1997
Age: 19
Relatives: Nelson Thorndyke (father), Lindsey Thorndyke (mother), Chuck Thorndyke (grandfather), Sam Speed (uncle)
Hair Color: Auburn
Eye Color: Blue
Skin Color: Fair
Appearance
Edit
Chris always wears a white turtleneck, blue jeans, and blue and yellow sneakers
Chris shares his birthday with former Beatles bass guitarist Paul McCartney. He was born on the former Beatle's 55th birthday.
He and his friend Shaggy Rogers moved to Winter City after getting evicted from their Starlet City apartment for causing damage during a Nerf gun battle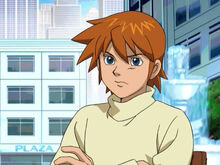 Ad blocker interference detected!
Wikia is a free-to-use site that makes money from advertising. We have a modified experience for viewers using ad blockers

Wikia is not accessible if you've made further modifications. Remove the custom ad blocker rule(s) and the page will load as expected.