~Chuggie is the main protagonist of Chuggie & Pals.~
Full Name: Chuggie The Little Green Locomotive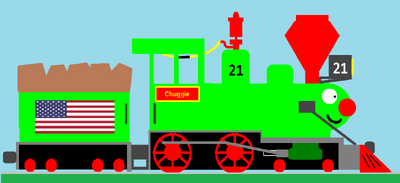 Also Known As: Chugster
Species: Steam Engine
Birthday: January 30, 2003 
Age: 13
Gender: Male
Residence: Piperville Roundhouse
Relationship(s): Butch Cassidy (owner and engineer)
Occupation(s): Engine on the Piperville Railroad
Likes: Being with his friends, children, being on time
Dislikes: Pete's pranks, being late
Appearance
Edit
Chuggie is a green 4-4-0 narrow gauge steam locomotive with a red funnel, a red cowcatcher, red wheels, a red whistle, and a red nose. He also has his name, the number "21", and the American flag on his sides.
Chuggie is based off of the Disneyland Railroad's No.1, also known as "C.K. Holliday", who is also his real-life counterpart
He shares his birthday with late Small Faces lead singer Steve Marriott and former Genesis drummer Phil Collins
He also serves as Butch's main mode of transportation other than his (Butch's) Chevrolet Caprice
He has a couple of coaches in his colors that he uses to pull passengers around Piperville
Ad blocker interference detected!
Wikia is a free-to-use site that makes money from advertising. We have a modified experience for viewers using ad blockers

Wikia is not accessible if you've made further modifications. Remove the custom ad blocker rule(s) and the page will load as expected.