~Connie is a supporting protagonist for Down On The Farm.~
Full Name: Connie The Calf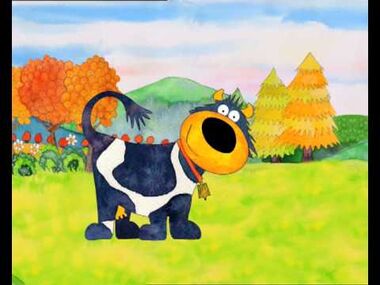 Also Known As: Sweetie
Species: Cow
Gender: Female
Birthday: April 2, 2011
Age: 5
Relatives: Mollie (mother), Bill (father), Percy Pickles (owner and caregiver), Stephanie Pickles (owner and caregiver), Alex (best friend)
Hair Color: Black and white
Eye Color: Black
Skin Color: Yellow (black nose)
Appearance
Edit
Connie always wears an orange ribbon with a bell attached to it around her neck.
Connie shares her birthday with Cars drummer David Robinson
She loves being with her parents and Stephanie
She also likes it when Stephanie plays her Monkees CD
She HATES being tipped over and usually starts to cry if that happens.
Ad blocker interference detected!
Wikia is a free-to-use site that makes money from advertising. We have a modified experience for viewers using ad blockers

Wikia is not accessible if you've made further modifications. Remove the custom ad blocker rule(s) and the page will load as expected.