~Cooler is a supporting protagonist for The Railroad Girl.~
Full Name: Cooler Terry Spott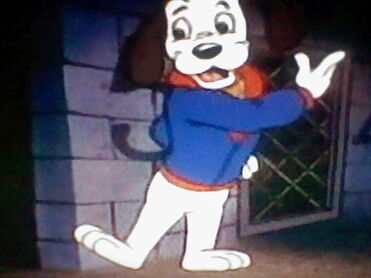 Also Known As: Mister/Uncle Cooler
Species: Dog
Gender: Male
Birthday: November 22, 1978
Age: 37
Relatives: Greg Spott (brother), Emily Spott (sister-in-law, deceased), Doki Spott (nephew), Tina Spott (niece), Bright Eyes Clarkson-Spott (adoptive niece), Nose Marie Adams (wife)
Hair Color: White (brown ears)
Eye Color: Black
Skin Color: Peach
Appearance
Edit
Cooler always wears a blue jacket with red cuffs and an orange collar.
Cooler shares his middle name and birthday with late American singer Terry Stafford, best known for his Elvis Presley-sound-alike voice and his #1 hit "Suspicion".
Cooler was also born on the 16th anniversary of the JFK assassination
Cooler LOVES outdoor activities, mostly cycling and baseball
He owns a beautiful red bicycle, which he uses as his main mode of transportation
Whenever Doki and Bright Eyes need to be babysat, Cooler always volunteers
Because he and his brother were both born in California, Cooler's favorite sports teams are the San Francisco 49'ers and the Los Angeles Angels
He has a heart-shaped birthmark
He is very good at knitting
His pajamas consist of an orange robe with a black "c" on it and orange slippers
Ad blocker interference detected!
Wikia is a free-to-use site that makes money from advertising. We have a modified experience for viewers using ad blockers

Wikia is not accessible if you've made further modifications. Remove the custom ad blocker rule(s) and the page will load as expected.