Danny Fenton is one of the main protagonists of The Lennonsburg Bunch.
Full Name: Daniel Henry Fenton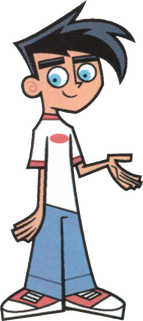 Also Known As: Dan
Species: Human
Gender: Male
Birthday: May 14, 2003
Age: 14
Relatives: Jack Fenton (father), Maddie Fenton (mother), Jazz Fenton (older sister)
Hair Color: Black
Eye Color: Icy Blue
Skin Color: Fair
Appearance
Edit
Danny always wears a white t-shirt with a thin red collar and cuffs and a red circle, blue jeans, and red and white converse sneakers.
Danny shares his birthday with American filmmaker George Lucas, best known for creating the Star Wars and Indiana Jones franchises.
He is a fan of the Chicago Bears football team due to his family coming from Illinois, and has a bedroom commemorating said team.
He lives in a lake house next door to Matt's.
Ad blocker interference detected!
Wikia is a free-to-use site that makes money from advertising. We have a modified experience for viewers using ad blockers

Wikia is not accessible if you've made further modifications. Remove the custom ad blocker rule(s) and the page will load as expected.