Dizzy is one of the main protagonists for Tulip's Garage.
Full Name: Dizzy The Cement Mixer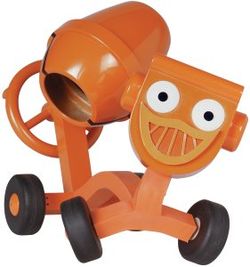 Also Known As: Dizz
Species: Cement Mixer
Gender: Female
Birthday: September 28, 2012
Age: 5
Relatives: Tulip (owner), Muck (best friend)
Hair Color: N/A
Eye Color: Black
Skin Color: Orange
Appearance
Edit
She doesn't wear clothes.
Dizzy shares her birthday with Scottish actor Andrew Agnew, best known for his role as the character PC Plum on the CBeebies program Balamory
Like Muck, she is a fan of The Sensations, but unlike Muck, her favorite member is the band's lead guitarist, Joey Hardy, who just so happens to be the younger brother of Frank Hardy, the band's keyboardist
She is also a fan of Australian children's pop band The Wiggles
She is the youngest member of the team
She is very close to Tulip and looks up to her as a big sister figure
Ad blocker interference detected!
Wikia is a free-to-use site that makes money from advertising. We have a modified experience for viewers using ad blockers

Wikia is not accessible if you've made further modifications. Remove the custom ad blocker rule(s) and the page will load as expected.