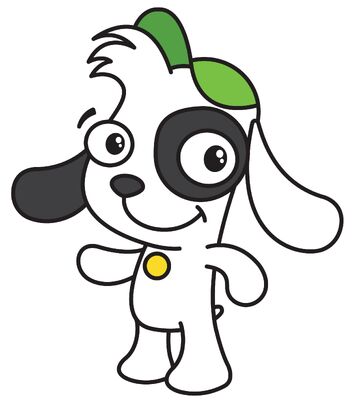 Doki is the deuteragonist for The Railroad Girl and one of the main protagonists for of Life With Doki.
Bio
Full Name: Doki Jason Spott
Also Known As: Dog Boy
Species: Dog
Gender: Male ♂
Birthday: February 25, 2008
Age: 9
Relatives: Greg Spott (father), Carmen Spott nee-Clarkson (stepmother), Bright Eyes Clarkson-Spott (younger stepsister) Emily Spott (mother; deceased), Tina Spott (older sister), Simon Spott (grandfather), Cooler Spott (uncle), Nose Marie Adams (aunt), Sally Bollywood (foster sister)
Hair Color: White, Black on right ear and spot over eye
Eye Color: Black
Skin Color: Peach
Appearance
Green baseball cap, gold coin necklace.
Trivia
Doki shares his birthday with late Beatles lead guitarist George Harrison
He is the president of the expedition club at John McIndoe Elementary School
He is very fond of old-school music groups like The Beatles, The Monkees, The Foundations, and, like Stepney, The Bee Gees
When he goes to school, he always takes an orange backpack with him
Out of all the engines, the one he favors most is Stepney
His mom died of lymphoma only a week after he was born, leaving him with only his father, sister, grandfather, and uncle until his father married Bright Eyes' mother
Whenever he goes to the beach or to the pool, he wears a pair of green swim shorts with a light green stripe down the sides
When he sleeps, he wears a green stocking cap with a yellow pom-pom on the end
He lives in a house that was designed by his father, who is an architect, and has a cool bedroom that was designed by his grandfather, who is an interior designer
He and his friends hang out in a treehouse in his backyard
Gallery
Ad blocker interference detected!
Wikia is a free-to-use site that makes money from advertising. We have a modified experience for viewers using ad blockers

Wikia is not accessible if you've made further modifications. Remove the custom ad blocker rule(s) and the page will load as expected.