~Duck is a supporting protagonist for The Railroad Girl.~
Full Name: Duck The Great Western Engine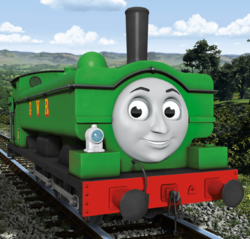 Real Name: Montague
Also Known As: Monty
Species: Steam Engine
Gender: Male
Age: 15
Relatives: Charles B. Collett (designer), North British Locomotive Company (builder), Oliver (brother)
Hair Color: N/A
Eye Color: Black
Skin Color: Grey
Appearance
Edit
Duck is a green tank engine with green paint, the letters "G", "W", and "R" on both sides of his tank and the number "8" on both sides of his cab. He also has black wheels.
Duck's favorite movies are the Muppets movies
He really likes The Muppets and has a vast collection of Muppets merchandise such as bobble-heads, coffee mugs, and even a Muppets throw rug
His favorite TV shows are The Muppets Show, Muppet Babies, and anything else that starts the iconic creations of Jim Henson
Out of all the Muppets, Kermit The Frog is his favorite
He is best friends with Oliver and Donald
He also has a taste for mystery and enjoys reading The Hardy Boys and the Nancy Drew mystery novels with Oliver.
Ad blocker interference detected!
Wikia is a free-to-use site that makes money from advertising. We have a modified experience for viewers using ad blockers

Wikia is not accessible if you've made further modifications. Remove the custom ad blocker rule(s) and the page will load as expected.