~Duke is a supporting protagonist for The Railroad Girl.~
Name: Duke
Also Known As: Grandpuff
Species: Narrow Gauge Steam Engine
Gender: Male
Age: 66
Relatives: Boston Lodge (designer and builder)
Hair Color: N/A
Eye Color: Black
Skin Color: Grey
Appearance
Edit
Duke is a brown narrow gauge tender engine with brown paint with yellow lining and his name on both sides of his boiler.
At 66 years old, Duke is the oldest of the narrow gauge engines
He gets his nickname from who old he is and his fatherly side toward the little engines
He is the only engine in Winter City without buffers
He is the only narrow gauge engine with a tender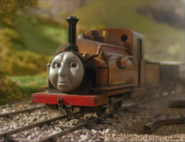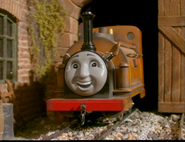 Ad blocker interference detected!
Wikia is a free-to-use site that makes money from advertising. We have a modified experience for viewers using ad blockers

Wikia is not accessible if you've made further modifications. Remove the custom ad blocker rule(s) and the page will load as expected.