~Duncan is a supporting protagonist for The Railroad Girl.~
Name: Duncan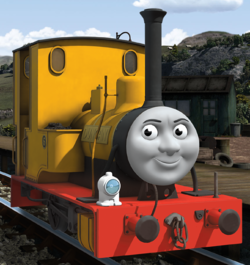 Also Known As: The Golden Guardian
Species: Narrow Gauge Steam Engine
Gender: Male
Age: 12
Relatives: Andrew Barclay and Co. Ltd. (designer and builder)
Hair Color: N/A
Eye Color: Black
Skin Color: Grey
Appearance
Edit
Duncan is a golden-yellow narrow gauge engine with golden-yellow paint with black lining and gold boiler bands, his name on both sides of his boiler, and the number "6" on both sides of his coal bunker.
Duncan is hot-tempered and gets really furious at Sir Handel when he acts all bossy, but Ernie usually calms him down by having him take deep breaths into a paper bag
Despite his hot temper, he is usually happy and lively and always eager to get things done correctly and on time.
He's also great friends with the other narrow engines and Karen
His favorite movie is "The Ballad Of The Green Berets"
He's one of the bravest engines in Winter City, earning him the nickname "The Golden Guardian"
He also gets his nickname from how he sometimes carries a toy cap rifle with him
He can also play guitar
Despite the fact that they are 2 different types of engines, Duncan is best friends with Rusty
Ad blocker interference detected!
Wikia is a free-to-use site that makes money from advertising. We have a modified experience for viewers using ad blockers

Wikia is not accessible if you've made further modifications. Remove the custom ad blocker rule(s) and the page will load as expected.