~Elizabeth is a supporting protagonist for The Railroad Girl.~
Full Name: Elizabeth The Vintage Truck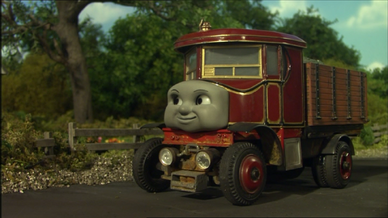 Also Known As: Liz
Species: Steam Truck
Gender: Female
Age: 11
Relatives: Cooler Spott (owner)
Hair Color: N/A
Eye Color: Black
Skin Color: Grey
Appearance
Edit
Elizabeth is a dark red steam truck with dark red paint with gold and black stripes.
Usually, Elizabeth is kind to any engines who treats her and other engines equal, but does not tolerate engines who are disrespectful to her or other engines
She does not like laziness or rudeness and will respond to both in the strongest terms, even if it means calling the offender names
She is a fan of The Vamps, 5 Seconds Of Summer, and Eoghan Quigg
Because she was made in Europe, prior to sale, she was modified so she can be legally driven on American roads
Ad blocker interference detected!
Wikia is a free-to-use site that makes money from advertising. We have a modified experience for viewers using ad blockers

Wikia is not accessible if you've made further modifications. Remove the custom ad blocker rule(s) and the page will load as expected.