~Farmer Pickles is a supporting protagonist for Down On The Farm.~
Full Name: Percy Cedric Pickles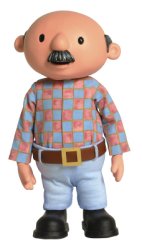 Also Known As: FP
Species: Human
Gender: Male
Birthday: August 14, 1961
Age: 56
Relatives: Margo Pickles (wife; deceased), Wally Pickles (son), Stephanie Pickles (daughter), Scruffty (pet), Connie, Mollie, and Bill (animals), Packer, Sumsy, Travis (machines under ownership), Trucksy (vehicle under ownership)
Hair Color: Black
Eye Color: Black
Skin Color: Fair
Appearance
Edit
Farmer Pickles always wears a plaid shirt, blue jeans, a brown leather belt with a brass buckle, and black shoes.
Farmer Pickles shares his birthday with American musician David Crosby, best known for his work with The Byrds and Crosby, Stills, & Nash, which consisted of himself, Stephen Stills of American-Canadian rock group Buffalo Springfield, and Graham Nash of British rock group The Hollies
He was placed in the care of his children after his wife died of complications from rheumatoid arthritis
He uses Trucksy as his main mode of transportation
He cares deeply for his animals and would rather have meat products from game animals like deer, elk, etc.
Ad blocker interference detected!
Wikia is a free-to-use site that makes money from advertising. We have a modified experience for viewers using ad blockers

Wikia is not accessible if you've made further modifications. Remove the custom ad blocker rule(s) and the page will load as expected.