Gabi is one of the main protagonists of Life With Doki.
Full Name: Gabriella Wilma Allen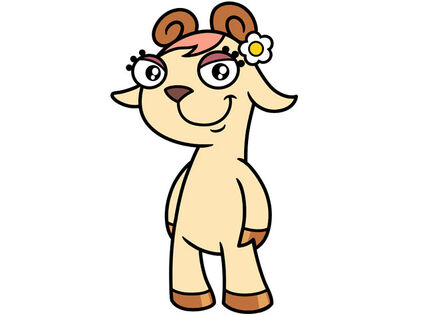 Also Known As: Gabs
Species: Goat
Gender: Female
Birthday: March 5, 2009
Age: 8
Relatives: Carlton Allen (father), Beth Allen (mother; deceased), Edith Allen (paternal grandmother), Chase (pet)
Hair Color: Pale Yellow (tuft of salmon hair on top of head)
Eye Color: Black
Skin Color: Brown
Appearance
Edit
Gabi always wears a daisy hair pin that previously belonged to her mother.
Gabi shares her birthday with Guyanese-British musician Eddy Grant, best known as a founding member and guitarist for British band The Equals, one of the UK's first racially integrated rock groups
Her mother died in a bus crash when she was 6, which resulted in her father having to have her paternal grandmother move in with them to help raise her, which resulted in her grandmother becoming somewhat if a second mother to her
Her father is an officer on the Winter City police force, and when the time came that her father's K-9 partners, Amelia and Reg, had produced a litter of puppies and that they were giving the puppies away, she was given the privilege of choosing which pup to keep, and she chose Chase, whom she is sometimes protective of
She has a black belt in karate, jujutsu, and taekwondo
She was very close to her mother, and tends to cry if someone mentions her.
Ad blocker interference detected!
Wikia is a free-to-use site that makes money from advertising. We have a modified experience for viewers using ad blockers

Wikia is not accessible if you've made further modifications. Remove the custom ad blocker rule(s) and the page will load as expected.