Gil is one of the main protagonists for White Falcon Adventures and the organist for The White Falcons.
Full Name: Gilbert Eric Hall, Jr.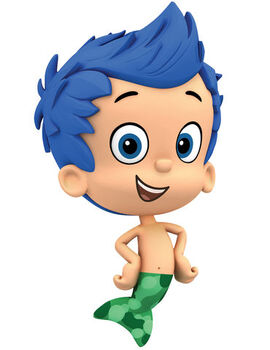 Also Known as: Gilly, Junior
Species: Guppy
Gender: Male
Birthday: October 14, 2007
Age: 10
Relatives: Gilbert Hall, Sr. (father), Sonya Hall (mother), Ralph Hall (older brother), Oona Kishi (love interest)
Hair Color: Blue
Eye Color: Blue
Skin Color: Fair (green tail)
Appearance
Edit
He doesn't wear clothes.
Gil shares his birthday with English pop singer, performer, musician, actor, and philanthropist Cliff Richard
He is a big fan of the Chicago Blackhawks hockey team, and owns a plush of his favorite player, Patrick Kane
He is also a fan of Batman and has a bedroom decorated to commemorate the iconic DC Comics hero
His instrument is a Hammond RT-2 organ
Another book he likes is the Captain Underpants series, but he reads them responsibly and never takes them to school, as the books are banned at the elementary school because of its rude humor and never reads them when his mother is around due to her dislike of the books for the same reason
Despite being 10 years old, he is still a fan of Australian children's pop band The Wiggles
Ad blocker interference detected!
Wikia is a free-to-use site that makes money from advertising. We have a modified experience for viewers using ad blockers

Wikia is not accessible if you've made further modifications. Remove the custom ad blocker rule(s) and the page will load as expected.