~Grizz is a supporting protagonist for The Incredible Lupe.~
Full Name: Grizzly Richard Bear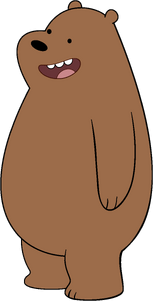 Also Known As: Brownie
Species: Grizzly Bear
Gender: Male
Birthday: February 3, 1989
Age: 27
Relatives: Panda Bear (brother), Ice Bear (brother)
Hair Color: Brown
Eye Color: Black
Skin Color: Peach (black nose)
Appearance
Edit
He doesn't wear clothes.
Grizz shares his birthday with English guitarist Dave Davies, best known as the lead guitarist for The Kinks, a band he formed with his older brother Ray and 2 friends
He gets his nickname from his brown fur
He and his brothers moved into Hokey Wolf's house/hunting lodge to live with him and his niece after their (the Bears') house burnt down
He can also play the bass really well and owns a Gretsch Jet Bass
Ad blocker interference detected!
Wikia is a free-to-use site that makes money from advertising. We have a modified experience for viewers using ad blockers

Wikia is not accessible if you've made further modifications. Remove the custom ad blocker rule(s) and the page will load as expected.