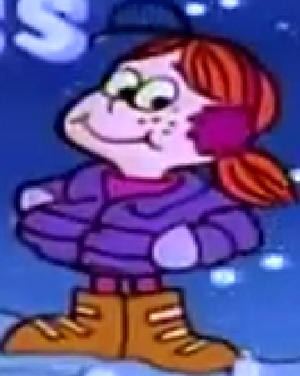 Holly is the main protagonist of Holly & Blue.
Full Name: Holly Elisabeth Burns
Also Known As: Hol
Species: Human
Gender: Female ♀
Birthday: August 21, 2009
Age: 8
Relatives: Ruth Burns (paternal grandmother), Steve Burns Sr. (father), Olivia Burns (mother), Steve Burns, Joe Burns (older brothers), Blue (pet)
Hair Color: Light Brown (dyed Red)
Eye Color: Black
Skin Color: Fair
Appearance
Edit
Red-violet earmuffs, red-violet sweater, purple puffer coat, red-violet pants, brown boots.
Holly shares her birthday with American stock car racing driver Paul Menard, who is her favorite driver in the Monster Energy NASCAR Cup Series.
Sometimes, Holly wears the same shirt and pants, but with a tan coat and white shoes.
Holly has an interest in magic, and owns a magician kit that she got as a present for her 5th birthday.
Ad blocker interference detected!
Wikia is a free-to-use site that makes money from advertising. We have a modified experience for viewers using ad blockers

Wikia is not accessible if you've made further modifications. Remove the custom ad blocker rule(s) and the page will load as expected.