Hong Kong Phooey is one of the main protagonists for The Adventures Of Tinker & Co..
Full Name: Penrod Horace Pooch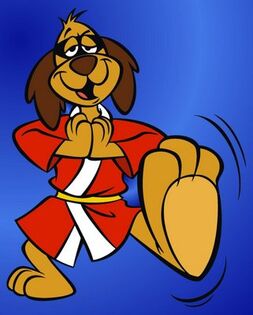 Also Known As: Phooey
Species: Dog
Gender: Male
Birthday: May 2, 1989
Age: 29
Relatives: George Pooch (father), Sandra Pooch (mother)
Hair Color: 2 shades of brown
Eye Color: Black
Skin Color: Peach
Appearances
Edit
Hong Kong Phooey mostly wears a red and white robe with a yellow belt and a black mask. He sometimes also wears a lavender shirt with a white cap. He never wears shoes and always goes barefoot.
Hong Kong Phooey shares his birthday with American actor Dwayne Johnson
His favorite movies are all the Bruce Lee kung fu movies, mainly "Enter The Dragon"
He has a black belt in all martial arts, and hopes to someday start his own martial arts training school
He has a shape-changing car he calls the "Phooeymobile"
He also has a keen interest in apiculture and pursues a hobby of beekeeping