~ James is a supporting protagonist in The Railroad Girl.~
Full Name: James The Red Engine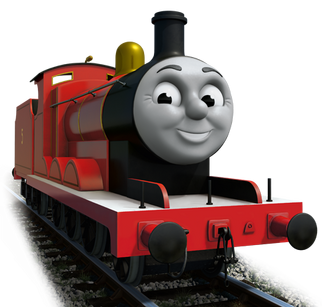 Also Known As: The Red Rocket
Species: Steam Engine
Gender: Male
Age: 15
Relatives: George Hughes (designer), Horwich Works (builder), Emily (girlfriend)
Hair Color: N/A
Eye Color: Black
Skin Color: Grey
Appearance
Edit
James is a red mixed-traffic engine with red paint with black lining, gold boiler bands, a brass dome, black wheels, and a red coal tender with the number "5" on it.
James is very proud of his red paint
When he first arrived at Winter City, he was black with red lining, but Ernie rewarded him with a new coat of paint for doing his first jobs properly and finishing on time
His favorite movies are Shrek, Shrek 2, Shrek The Third, Shrek: Forever After, the Star Wars saga, the Indiana Jones saga, and The Incredibles
He does like performing his tasks, but he likes getting the day off more
He hates bees
Until his nose healed from being stung, the other engines teased him by singing "James The Red-Nosed Engine", their own adaptation of "Rudolph The Red-Nosed Reindeer"
His favorite bands are Journey, Steppenwolf, Survivor, The Eagles, Queen, and The Brian Setzer Orchestra, and Huey Lewis & The News
So far, He is the only engine who is a Brony, or a male My Little Pony fan
His favorite pony is Rarity
He has a vast collection of My Little Pony merchandise, including throw rugs, mugs, vinyl figures, and even a wood carving of Rarity he got at a flea market.
Ad blocker interference detected!
Wikia is a free-to-use site that makes money from advertising. We have a modified experience for viewers using ad blockers

Wikia is not accessible if you've made further modifications. Remove the custom ad blocker rule(s) and the page will load as expected.