~Jeff Tracy is the vice principal of Fred Rogers Middle School and the founder of a top-secret organization known as International Rescue, which he runs along with his 5 sons Scott, John, Virgil, Gordon, and Alan.~
Full Name: Jefferey Christopher Tracy
Birthday: January 2, 1955
Age: 61
Gender: Male
Hair Color: Black (graying)
Eye Color: Blue
Skin Color: Fair
Residence: A fine cottage on 45 Kennedy Street, which he shares with his mother, Tracy Island (used as a summer retreat)
Relative(s): Lucy Tracy (wife, deceased), Scott, John, Virgil, Gordon, and Alan Tracy (sons), Grandma Tracy (mother)
Occupation(s): Head of International Rescue, Vice Principal of Fred Rogers Middle School
Favorite Food(s): Anything "good" (ex. fruits and veggies, meat products)
Least Favorite Food(s): Anything "disgusting" (ex. onions, pickles)
Likes: Behaving students, helping others, magic tricks
Dislikes: Troublemakers, others in danger or distress
Known Prized Possession(s): A magic set he bought himself at his 7th Grade Book Fair, a photo album of him and his sons when they were growing up.
Appearance
Edit
Casual Outfit: A light blue shirt with navy blue lining, navy blue jeans, white socks, brown loafers
Working Outfit: An orange polo neck under a gray waistcoat, gray pants, the same socks and shoes.
International Rescue Uniform: It's never been seen, but sources say it's bronze.
Personality
Edit
Jeff's very kind,helpful, and intelligent, but can be strict and stern with troublemakers, pretty much like Principal Squarepants.
After his wife, Lucy, was killed in an avalanche, Jeff, with the help from his mother, raised all 5 of his sons.
Many of his workplace's exquisite features, such as a pool table in the student cafeteria, a marvelous playground, and a go-kart and bike track were some of his contributions
His office is among the greatest of all the offices in the school, complete with an aquarium, a 50-inch flat-screen TV, and a photo album of him and his sons when they were growing up.
He likes doing magic shows for charity on the weekends or whenever school's out.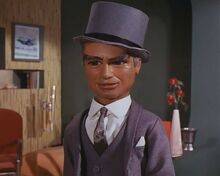 Ad blocker interference detected!
Wikia is a free-to-use site that makes money from advertising. We have a modified experience for viewers using ad blockers

Wikia is not accessible if you've made further modifications. Remove the custom ad blocker rule(s) and the page will load as expected.