Joe is a supporting protagonist for The Hardy Boys And The Loud Girls as well as the bass guitarist for The Sensations and one of the main protagonists for At Home With Karen.
Full Name: Joseph Donovan Burns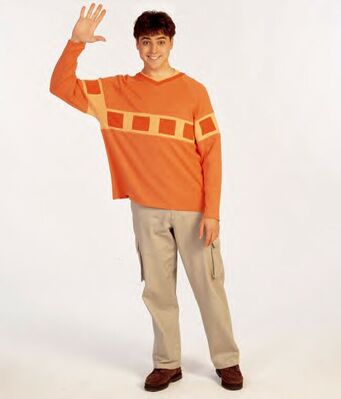 Also Known As: Square Boy, Lil' Bro (by Steve)
Birthday: March 1, 1997
Species: Human
Gender: Male
Age: 20
Relatives: Steven Burns, Sr. (father), Olivia Burns (mother) Steven Burns, Jr. (older brother), Holly Burns (younger sister), Fred Jones (friend), Daphne Blake (friend), Blue (pet), Ruth Burns (paternal grandmother), Aviva Corcovado (girlfriend)
Hair Color: Brown
Eye Color: Brown
Skin Color: Fair
Notable Instruments: Rickenbacker 4003, Guild B-54CE Acoustic Bass, Fender Jazz Bass, Lakland 44-02, Hagstrom Viking Bass, Fender Precision Bass, Gibson Thunderbird Non-Reverse Bass, Gretsch Broadkaster Bass
Appearance
Edit
During the day, Joe always wears different square shirts in 6 different colors: red, orange, yellow, green, blue, and purple with khakis and dark brown shoes. At night, he wears blue pajamas with squares in alternating colors on the top with duck slippers on his feet.
Joe LOVES graham crackers with apple juice, just like how Steve is fond of bananas
He met Aviva at an ice cream social in the Starlet City Grand Hotel and has been going out on dates with her ever since
He also has a passion for ducks and owns a stuffed duck he calls "Boris"
He shares his birthday with late Israeli Prime Minister Yitzhak Rabin
He also shares his birthday with former Who lead singer Roger Daltrey
He also shares his birthday with Canadian singer Justin Bieber
He also has an incredible sense of humor
Another celebrity he shares his birthday with is former Manfred Mann lead singer Mike D'Abo as wel as American film director Ron Howard, who was also famous for his role as Richard Cunningham on the TV show "Happy Days"
Although he plays bass right-handed, he is actually left-handed when it comes to drawing and writing, making him ambedextrious
He gets his nickname from the squares on his shirts
He and Steve both own and share a 1974 Volkswagen Thing that Steve inherited from their father on his 18th birthday
Ad blocker interference detected!
Wikia is a free-to-use site that makes money from advertising. We have a modified experience for viewers using ad blockers

Wikia is not accessible if you've made further modifications. Remove the custom ad blocker rule(s) and the page will load as expected.