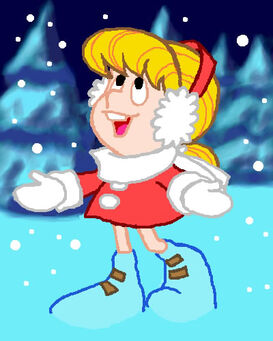 Karen is a supporting protagonist for The Hardy Boys And The Loud Girls and one of the main protagonists for At Home With Karen.
Full Name: Karen Henrietta Jackman-Jones
Also Known As: Kiddo
Species: Human
Birthday: September 1, 2008
Age: 8
Gender: Female ♀
Relatives: Murphy Jackman (father; deceased), Nicole Jackman (mother; deceased), Skip Jones (adoptive father), Peggy Jones (adoptive mother), Fred Jones (adoptive older brother), Zuma (pet)
Hair Color: Blonde
Eye Color: Black
Skin Color: Fair
Appearance
Edit
Red and white earmuffs, white scarf, red jacket, white mittens, blue boots.
Karen shares her birthday with former Bee Gees member Barry Gibb, who is currently the only surviving Gibb brother
Her mom died of throat cancer when she (Karen) was 4, and her father was killed in a street punk ambush while walking home from the grocery store the following year, and she was soon adopted by Sensations drummer Fred Jones
During the spring and summer, Karen wears a pink t-shirt, denim shorts, and brown hiking sandals, which she sometimes likes to take off
She loves hearing Fred and his band practice for gigs and concerts in the basement
Ad blocker interference detected!
Wikia is a free-to-use site that makes money from advertising. We have a modified experience for viewers using ad blockers

Wikia is not accessible if you've made further modifications. Remove the custom ad blocker rule(s) and the page will load as expected.