~Kevin is a supporting protagonist for The Railroad Girl.~
Full Name: Kevin The Mobile Crane
Also Known As: Mister Clumsy Pants
Species: Mobile Crane
Gender: Male
Age: 17
Relatives: Ransome and Rapier (designer and builder), Kelly (grandfather)
Hair Color: N/A
Eye Color: Black
Skin Color: Grey
Appearance
Edit
Kevin is a small yellow mobile 6-ton crane with black hazard stripes on his front. He also has a red hook and brakes.
Kevin is somewhat clumsy, but well-meaning
Kevin's clumsiness always makes his boss's sons and the other engines laugh, even thought it sometimes bothers and disturbs Victor
Kevin LOVES to play in the snow and wears chains on his wheels so he won't slip and fall
Every time he drops something, he always says "It was a slip of the hook."
Kevin's favorite bands are Edison Lighthouse, The Grass Roots, and The Eagles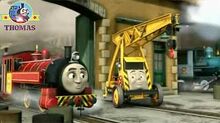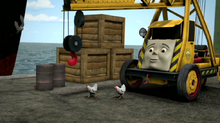 Ad blocker interference detected!
Wikia is a free-to-use site that makes money from advertising. We have a modified experience for viewers using ad blockers

Wikia is not accessible if you've made further modifications. Remove the custom ad blocker rule(s) and the page will load as expected.