~Kip is a supporting protagonist for Starlet City Friends.~
Full Name: Kimberly "Kip" Mary Reed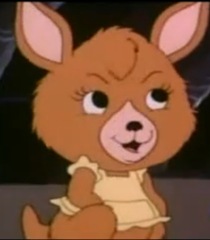 Also Known As: Kiddo
Species: Kangaroo
Birthday: June 27, 2011
Gender: Female
Age: 5
Relatives: Bruce Reed (father, deceased), Martha Reed (father, deceased) Alan and Biff Mayberry (guardians), Buster Reynolds (guardian)
Hair Color: Brown
Eye Color: Black
Skin Color: Peach
Appearance
Edit
Kip always wears a yellow blouse.
Her parents were killed by a gang of street thugs when she was still a baby, and the police left her (Kip) in a basket on Alan and Biff Mayberry's doorstep, and they kindly adopted the girl
She shares her birthday with late American actor Bob Keeshan, best known for playing the title role and creating the beloved children's television show Captain Kangaroo, which first aired in 1955 and aired for 29 years before being cancelled in 1984
She is very close to Alan, Biff, and Buster and usually cries if something happens to either one
She is the youngest member of the gang
Her favorite TV shows are The Bugaloos and H.R. Pufntsuf, both created by brothers Sid and Marty Krofft
Ad blocker interference detected!
Wikia is a free-to-use site that makes money from advertising. We have a modified experience for viewers using ad blockers

Wikia is not accessible if you've made further modifications. Remove the custom ad blocker rule(s) and the page will load as expected.