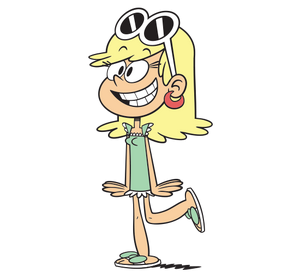 Leni Loud is one of the main protagonists of The Hardy Boys And The Loud Girls and a supporting protagonist for Bailey's World.
Bio
Full Name: Leni Lindsay Loud
Also Known As: Dumb Blonde
Species: Human
Gender: Female ♀
Birthday: June 12, 2000
Age: 16
Relatives: Lynn Loud Sr. (father;), Liz Loud (mother; deceased), Lori Loud (older sister), Luna Loud, Luan Loud, Lynn Loud, Lucy Loud, Lola Loud, Lana Loud, Lisa Loud (younger sisters), Freddie Benson (boyfriend)
Hair Color: Blonde
Eye Color: Black
Skin Color: Fair
Appearance
Turquoise frilled dress, white sandals with turquoise bows.
Trivia
Leni's mom died giving birth to Lisa and her dad was kidnapped by a street gang, leaving her in the care of Lori.
Leni shares her birthday with American stock car racing driver Jennifer Jo Cobb.
Leni is a master fashion designer, and has designed many outfits, with one of the most prominent a special driving outfit she wears whenever she drives a vehicle.
Gallery