Lionel is the tritagonist for Hanging Out With Maya.
Full Name: Lionel Morton Busterfield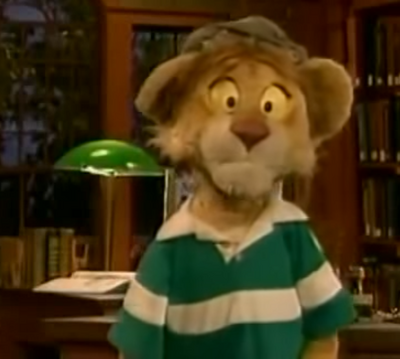 Also Known As: Big Bro
Species: Lion
Gender: Male
Birthday: September 10, 2006
Age: 10
Relatives: Theo Busterfield (father), Cleo Busterfield (mother), Leona Busterfield (younger sister), Maya Beeatrix-Busterfield (adoptive younger sister)
Hair Color: Gold
Eye Color: Yellow
Skin Color: Dark Brown
Appearance
Edit
Lionel always wears a green and white polo shirt with the number "42" on one of the sleeves and a gray cap.
Lionel shares his birthday with Puerto Rican singer and guitarist Jose Feliciano
He loves music, and can mostly be seen playing his Fender FC-100 classical acoustic guitar, which was previously owned by his father
Apart from music, he is also a fan of the Marvel Comics superhero Spider-Man and has a bedroom themed around Spider-Man as well as a plush toy of the hero named "Lil' Spidey"
He also has a Slingerland Classic V drum kit that he has set up in a corner of his room and has his name printed on the kick drum
He also is a very good skateboarder 
After Episode 3 , he gains a new instrument: A Fender Telecaster electric guitar
Ad blocker interference detected!
Wikia is a free-to-use site that makes money from advertising. We have a modified experience for viewers using ad blockers

Wikia is not accessible if you've made further modifications. Remove the custom ad blocker rule(s) and the page will load as expected.