Lofty is one of the main protagonists for Tulip's Garage.
Full Name: Lofty The Crane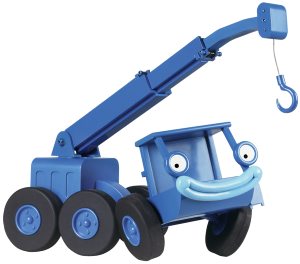 Also Known As: Big Blue
Species: Mobile Crane
Gender: Male
Birthday: November 18, 2004
Age: 13
Relatives: Tulip (owner)
Hair Color: N/A
Eye Color: Black
Skin Color: Blue
Appearance
Edit
He doesn't wear clothes.
Lofty shares his birthday with American stock car racer Denny Hamlin, who currently drives the the No. 11 Toyota Camry in the Monster Energy NASCAR Cup Series
He is the only one of the machines who is a Brony, and his favorite pony is Fluttershy, whom he owns a plush of
He often lacks confidence and thinks he can't do certain tasks without goofing up, but usually finds encouragement from Tulip and the other machines
He likes to keep the fact that he is a Brony a secret from the others to avoid being laughed at
Ad blocker interference detected!
Wikia is a free-to-use site that makes money from advertising. We have a modified experience for viewers using ad blockers

Wikia is not accessible if you've made further modifications. Remove the custom ad blocker rule(s) and the page will load as expected.