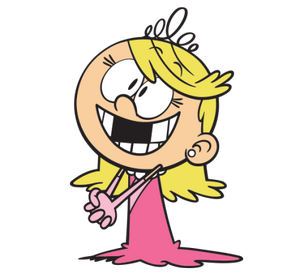 Lola Loud is one of the main protagonists of The Hardy Boys And The Loud Girls.
Bio
Full Name: Lola Louise Loud
Also Known As: Little Miss Prim And Perfect
Species: Human
Gender: Female ♀
Birthday: July 30, 2010
Age: 6
Relatives: Lynn Loud Sr. (father), Liz Loud (mother; deceased), Lori Loud, Leni Loud, Luna Loud, Luan Loud, Lynn Loud, Lucy Loud (older sisters), Lana Loud (twin sister), Lisa Loud (younger sister)
Hair Color: Blonde
Eye Color: Black
Skin Color: Fair
Appearance
Black wire tiara, pink princess dress, light pink sash, white pearl necklace, light pink gloves, pink high heels.
Trivia
Lola's mom died giving birth to Lisa and her dad was kidnapped by a street gang, leaving her in the care of Lori.
Lola has dyslexia, which makes it hard for her to read or write.
Lola owns a kiddie car that she and Lana travel around in.
Gallery