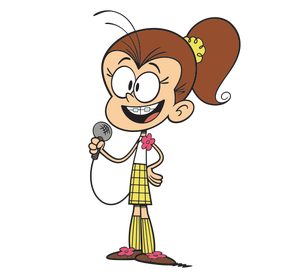 Luan Loud is one of the main protagonists of The Hardy Boys And The Loud Girls.
Bio
Full Name: Luan Whitney Loud
Also Known As: Luan Laugh Out Loud
Species: Human
Gender: Female ♀
Birthday: May 8, 2002
Age: 16
Relatives: Lynn Loud Sr. (father), Liz Loud (mother; deceased), Lori Loud, Leni Loud, Luna Loud (older sisters), Lynn Loud, Lucy Loud, Lola Loud, Lana Loud, Lisa Loud (younger sisters)
Hair Color: Brown
Eye Color: Black
Skin Color: Fair
Appearance
White shirt with gag flower, yellow skirt, yellow socks, brown shoes with gag flowers.
Trivia
Luan's mom died giving birth to Lisa and her dad was kidnapped by a street gang, leaving her in the care of Lori.
Luan shares her birthday with late American stand-up comedian Don Rickles.
Luan thinks of herself as a comedian and does things like pull pranks, make jokes and puns, and does comedy acts with various comedy props.
Gallery