~Luigi is a supporting protagonist for The Railroad Girl as well as the founder and lead guitarist for The When.~
Full Name: Luigi Raphael Phelps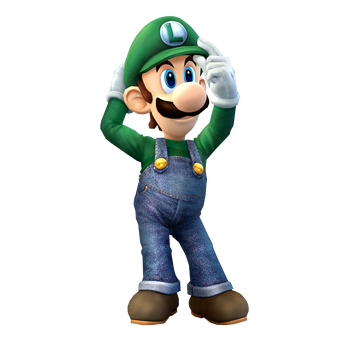 Also Known As: Greenie, Mister Luigi (by Toad)
Species: Human
Birthday: May 19, 1995
Gender: Male
Age: 21
Relatives: Mario Phelps (brother), Milo Phelps (father), Agata Phelps (mother)
Hair Color: Brown (black mustache)
Eye Color: Blue
Skin Color: Fair
Appearance
Edit
Luigi always wears a green shirt, light blue denim overalls with brass buttons, a green cap with a green "L" inside a white circle on it, white gloves, and brown shoes.
Luigi taught himself how to play guitar and is now the proud owner of a black Gibson SG
His favorite TV shows are the original Hawaii Five-O, Scooby-Doo, and Josie & The Pussycats, like his brother Mario
He and his older brother were both raised by an American father and an Italian mother, which makes them Italian-Americans
He gets his name from his green shirt and cap
He shares his birthday with former Who guitarist Pete Townshend
He was born on Townshend's 50th birthday
Ad blocker interference detected!
Wikia is a free-to-use site that makes money from advertising. We have a modified experience for viewers using ad blockers

Wikia is not accessible if you've made further modifications. Remove the custom ad blocker rule(s) and the page will load as expected.