Luke Stars is one of the main protagonists of Adventures With The Grasshoppers.
Full Name: Lucas John Schwartz (surname legally changed to Stars)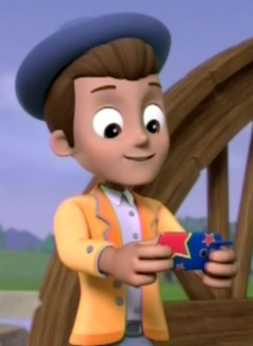 Also Known As: Lukie
Species: Human
Gender: Male
Birthday: February 16, 1996
Age: 21
Relatives: Alex Schwartz (father), Tiffany Schwartz (mother), Oscar Schwartz (older brother), Scootaloo Fletcher-Stars (adopted younger sister)
Hair Color: Brown
Eye Color: Brown
Skin Color: Tan
Appearance
Edit
Luke always wears a light orange jacket over a light purple collared shirt and a blue fedora with a pair of faded jeans and black-and-orange dress shoes.
Luke shares his birthday with Australian singer and actor Paul Paddick, best known for his portrayal of Captain Feathersword The Friendly Pirate, a character associated with the famous Australian children's band The Wiggles
His success as a pop star has made him one of the wealthiest citizens in Rogertucky, and he, along with his friends and bandmates, lives in a Mediterranean-style mansion he inherited from his paternal grandfather, complete with an indoor swimming pool and hot tub
His instruments are a Fender Mustang, A Zemaitis MFA-101, a Rickenbacker 330/12, and a Maton SRS70-12
He doesn't mind if female fans get overexcited to see him and his band perform
Apart from music, he also is a fan of motorsports, specifically NASCAR, with his favorite driver being Jimmie Johnson.
Ad blocker interference detected!
Wikia is a free-to-use site that makes money from advertising. We have a modified experience for viewers using ad blockers

Wikia is not accessible if you've made further modifications. Remove the custom ad blocker rule(s) and the page will load as expected.