~Lupe is the main protagonist for The Incredible Lupe.~
Full Name: Mary Angela "Lupe" Ranford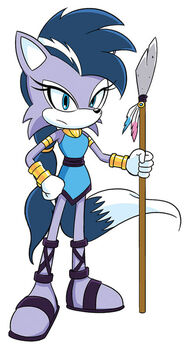 Also Known As: Lupey
Species: Wolf
Gender: Female
Birthday: December 18, 2000
Age: 15
Relatives: Harold "Hokey" Livingstone (3rd uncle), Philip Ranford (father, deceased), Katie Ranford (mother, deceased)
Hair Color: Pale purple (dark blue hair with white streaks)
Eye Color: Blue
Skin Color: Peach
Appearance
Edit
Lupe always wears a blue sleeveless top with a matching skirt, plastic gold wristbands, a plastic gold necklace, and dark purple sandals with matching leg straps.
Lupe shares her birthday with American guitarist Elliot Easton, best known as the lead guitarist for The Cars
She also shares her birthday with Rolling Stones lead guitarist Keith Richards
Her's mother died of stomach cancer when she (Lupe) was only 3 weeks old, then her father was killed by a drunk driver on his way home from work when she was about to turn 8, and she was later adopted by her 3rd uncle Hokey and his housemates.
In the summer, Lupe likes to take off her sandals and go barefoot
When winter rolls around, she wears a pair of blue jeans, a purple turtleneck with a pink "L" on it, white boot socks, and brown slippers when she stays at home, and brown boots when she steps out.
When she goes swimming, she trades her clothes for a short-sleeved wetsuit
She sleeps in her clothes, but sheds her jewelry and sandals so her bedclothes won't get messed up
She also has a scar on her face from a really bad skateboarding accident
She likes to take walks in the woods and carries a homemade spear for defense
She took drum lessons drum her uncle and is now the proud owner of a red and white Ludwig Vistalite drum kit.
Ad blocker interference detected!
Wikia is a free-to-use site that makes money from advertising. We have a modified experience for viewers using ad blockers

Wikia is not accessible if you've made further modifications. Remove the custom ad blocker rule(s) and the page will load as expected.