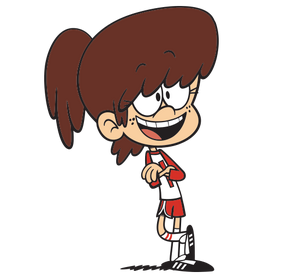 Lynn Loud is one of the main protagonists of The Hardy Boys And The Loud Girls and a supporting protagonist for Bailey's World.
Bio
Full Name: Lynn Logan Loud, Jr.
Also Known As: Lynn-sanity
Species: Human
Gender: Female ♀
Birthday: November 5, 2003
Age: 14
Relatives: Lynn Loud Sr. (father), Liz Loud (mother; deceased), Lori Loud, Leni Loud, Luna Loud, Luan Loud (older sisters), Lucy Loud, Lola Loud, Lana Loud, Lisa Loud (younger sisters), Jonny Quest (boyfriend)
Hair Color: Brown
Eye Color: Black
Skin Color: Fair
Appearance
Red and white jersey, red and white shorts, white socks, black cleats.
Trivia
Lynn's mom died giving birth to Lisa and her dad was kidnapped by a street gang, leaving her in the care of Lori.
Lynn is a fan of sports, with her favorite football team being the Los Angeles Rams, and her favorite player being Todd Gurley.
Aside from playing sports, Lynn is good at playing the piano, and also plays keytar for Luna's band "Luna And The Illusions".
Gallery