Marshall is a supporting protagonist for At Home With Karen.
Full Name: Marshall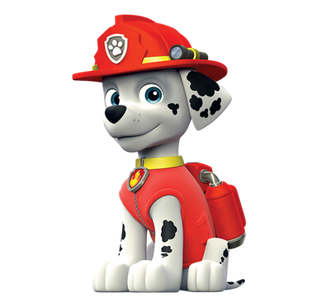 Also Known As: Marshie, Cutie Pie, or Sweetie (by Aviva),
Species: Dalmatian
Birthday: February 28, 2012
Gender: Male
Age: 4
Relatives: Aviva Corcovado (owner and adoptive mother), Unnamed parents (biological parents)
Hair Color: White with black spots
Eye Color: Blue
Skin Color: Peach
Appearance
Edit
Marshall always wears a yellow collar with a tag picturing a flame on a red background, though he someties wears a red coat and firefighting gear
Marshall shares his birthday with late Rolling Stones member Brian Jones
He likes to use his water cannon to help Aviva water the plants in her garden
He likes it best when Aviva invites him to join her on the couch or in her bed and snuggle with her
He also likes pumpkins and dressed up as one for Halloween
His most prized possession is a teddy bear he was given at birth
He is also very affectionate and likes to snuggle with anyone whenever he can
Whenever he and Aviva go duck hunting, he retrieves downed ducks from the water
Ad blocker interference detected!
Wikia is a free-to-use site that makes money from advertising. We have a modified experience for viewers using ad blockers

Wikia is not accessible if you've made further modifications. Remove the custom ad blocker rule(s) and the page will load as expected.