Maya is the main protagonist for Hanging Out With Maya.
Full Name: Maya Angela Beeatrix-Busterfield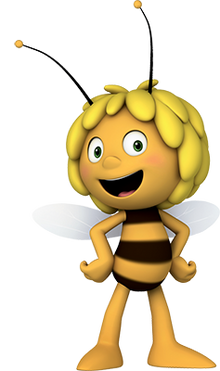 Also Known As: Sweetie
Species: Bee
Gender: Female
Birthday: October 11, 2010
Age: 6
Relatives: George Beeatrix (father; deceased), Jane Beeatrix (mother; deceased), Theo Busterfield (adoptive father), Cleo Busterfield (adoptive mother), Lionel Busterfield (adoptive older brother), Leona Busterfield (adoptive younger sister)
Hair Color: Blonde
Eye Color: Green
Skin Color: Dark Yellow and dark brown
Appearance
Edit
She doesn't wear clothes.
Maya shares her birthday with English television presenter and musician Neil Buchanan, best known for co-creating and presenting the British children's television series Art Attack
Her mother died of liver cancer when she was a baby, then her father died of a bite from a cottonmouth snake when she was five, leaving her an orphan until the Busterfields took her in
Her most cherished possession is a stuffed llama her father gave her for her fourth birthday and that she named "Layla" after the Eric Clapton song of the same name
Because a snake is the cause of her father's death, she has a fear of snakes and tends to freak out at the sight of one, even non-venomous species
Ad blocker interference detected!
Wikia is a free-to-use site that makes money from advertising. We have a modified experience for viewers using ad blockers

Wikia is not accessible if you've made further modifications. Remove the custom ad blocker rule(s) and the page will load as expected.